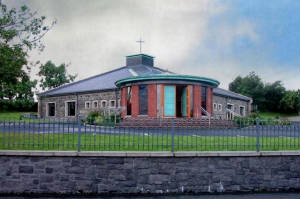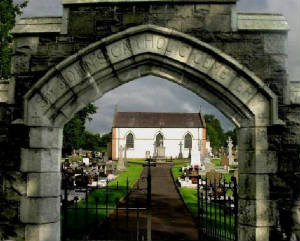 St Mary's Website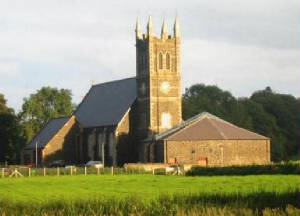 .
(It's really this colour, but I think that the evening sunlight on the top photographs gives the building a lovely rich glow)
.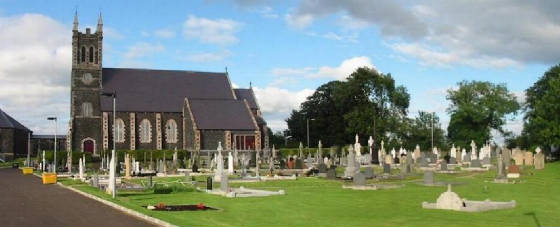 Built in 1872/73, the church is in the townland of Mayogall, it is often referred to by the older generation as "Mayogall Chapel".
This Chapel replaced a Chapel which was situated about 100 metres away on the opposite side of the road. Part of its ruins are still visible in what is locally referred to as the 'Old Graveyard'. The chapel in the old graveyard was built in 1802 to replace an old Mass House whose origins went back into Penal times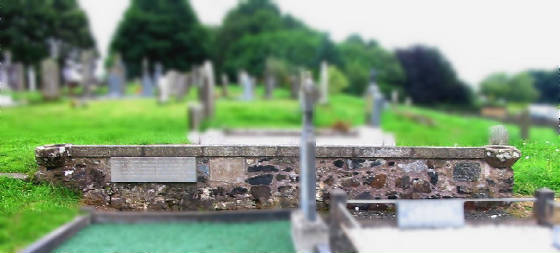 (Above) A small section of a wall (complete with the original foundation stone) in the "Old Graveyard" is all that remains of the 1802 Church at Mayogall.
(Below) The "Old Graveyard" Graveyard at St Mary's Church, Mayogall.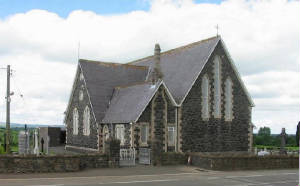 .
(Left)
St Mary's Roman Catholic Church at Mayogall.
(Below) The Graveyard at St Mary's, Mayogall.
.

St Taide Parish Church, Bellaghy (Church Island)
Church Island has been the focal point for worship of for various religions down through the centuries. This was a monastic settlement as far back as 1112.
At the time of the Reformation the island and Church passed into the hands of the Established Church, but the Catholic people have always regarded Church Island as the burial place of their forefathers.
By 1622, St.Taide Church on the Island was in perilous state, so it was replaced by St Tidas Parish Church, a new Church of Ireland Church which was built in Bellaghy. (See St Tidas Parish Church)
The tower and Spire were not built until 166 years later, when in 1788 they were added by the Earl Bishop of Bristol, to improve the view from his mansion at Ballyscullion.
In 1814 St Mary's Roman Catholic Church was built on the Portglenone Road Bellaghy (See St Mary's Roman Catholic Church)
The property is currently maintained as an ancient monument by the Dept. of the Environment. They have recently rebuilt the top of the spire which had been crooked since being struck by an American war-plane out of Toome aerodrome during World War II.