The Presbyterian Church was formed in Bellaghy in 1825 and were initially known as the 'Seceders' (See Other Churches - Seceding Meeting House). They met in the old Malt House, which they shared with the Methodist Church.
The present Church was built in 1838, and around this time a second Presbyterian congregation was formed in Bellaghy. This new Church was situated on the Portglenone side of Bellaghy, where the present day Manse stands.
The originally Seceders Church became known as First Bellaghy and the new Church Second Bellaghy.
Eventually in 1840 the two Churches were united to form the present day Bellaghy Presbyterian Church. The original Second Bellaghy Church building was renovated and was used as the Manse. In 1936 the Manse was destroyed by fire and the present day Manse was built on the site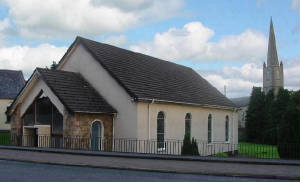 (Above) Bellaghy Presbyterian Church, (originally First Bellaghy Presbyterian Church) with the tower of Bellaghy Church of Ireland in the background.
(Below) Bellaghy Presbyterian Manse, built on the site of the old Second Bellaghy Presbyterian Church.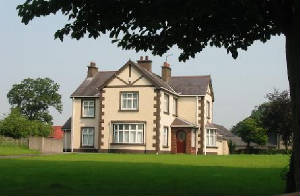 Built in 1700, and situated at the west end of the town, Castledawson Presbyterian Church is believed to have been built using the stones from the ruins of Dawsons Castle which stood a short distance away on the other side of the Moyola river.
This was the second Presbyterian Church erected in the area, prior to this the congregation attended Knockloughrim Presbyterian Church. (see Knockloughrim Presbyterian Church)
The Church was repaired and newly roofed in 1828 and rebuilt in 1903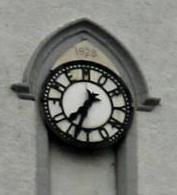 (left) The Church has an interesting clock face, instead of numbers, the face has letters which spell out MEMORY FULTON.
In 1928 theRev Joseph Fulton, who emigrated to Australia (his family were originally from Drumlamph) donated the clock in fond memory of his parents.
(Below) The graveyard at Castledawson Presbyterian Church.


Around 1830, an itinerant preacher visited the village of Curran once a month, preaching to a gathering of only 12 people in a private house. In 1836 a Seceding congregation, was established and they met in a private barn, and a few years later in 1838, Curran Presbyterian Church was built.
The Church was rebuilt in 1936.
The Presbyterian Church at Curran (Left) and the graveyard (Below)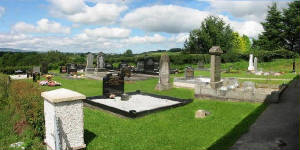 .
.

The first Presbyterian congregation in the area was established here at Knockloughrim (Parish of Termoneeny) in 1696.
At first the meetings were held in a private house, with parishioners travelling from as far a field as Ballyronan.
A Church was built on this site in 1765 and the building improved in 1840. The Church is locally known as 'The back of the hill'.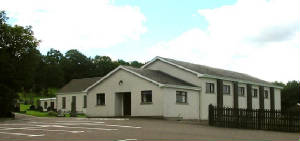 .
.