October 2005
Sorry there is no report available for the October meeting.

November 2005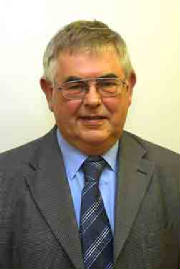 Dr Dermot Devlin guest speaker at the November meeting of the Bellaghy Historical Society.
The November meeting of the Bellaghy Historical Society was addressed by Dr. Dermot Devlin of Magherafelt and the N.U.U. on the subject of "The Bell of the Testament" - the bell in question being the bell of St. Patrick on which oaths were sworn at one time and which is now in the National Museum in Dublin.
Dr. Devlin told his audience that it is mentioned in the Annals of Ulster as early as the year 521. St. Patrick set up a Diocesan system of government in the church at a time when there was great competition for supremacy between Derry and Armagh.
Thereafter the monastic system prevailed for many years when the monasteries were not only a source of religion but of teaching and healing also. In the eleventh century there was even a woman bishop, St. Trea, who ruled a monastic church. The family of Mulholland was very important in early times and it was Henry Mulholland who when dying, told a Mclean where to find the bell of St.Patrick which he had hidden.
History does not give Irish scholars of this time enough credit for their erudition and Dr. Devlin stated that the two main languages in Ireland at that time were Latin and Irish. Scribes who were involved in the work of writing a Latin version of the Bible often wrote very interesting and touching notes in the margins in Irish. The Mallons were also a very important family and when deprived of their land and sent " to Hell or Connaught" one of them wrote a very forgiving poem in Irish pointing out that spiritual values were more precious than possessions.
Dr. Devlin's talk was greatly enjoyed by his large audience and he was thanked by the Chairperson Mrs Mary Breslin. She also reminded members of the Society's book "Life in the Past" which would make a very acceptable Christmas present for relatives now living in other countries and which is on sale at The Bawn, the Vivo and Costcutter supermarkets in Bellaghy, at The Bridewell, O'Briens and Andrews in Magherafelt and at the Monastery in Portglenone. She reminded members that the speaker at the December meeting would be Mr. Alex Blair on his very informative and amusing topic " Ulster Dialects".

December 2005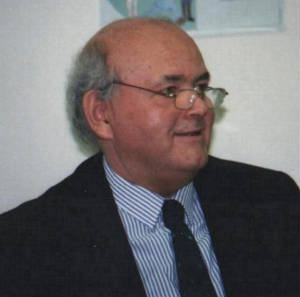 Well known Historian and Lecturer Mr Alex Blair was the guest speaker at the December meeting of the Bellaghy Historical Society
The December meeting of the Bellaghy Historical Society was addressed by Mr. Alex Blair, the well known Historian and Lecturer, on the subject of "Ulster Dialects". This proved an absorbing topic and was very much enjoyed by his audience.
Mr Blair pointed out the richness of out local manner of speaking and stressed that we should be very proud it. The main influence was and continues to be Gaelic Irish which in the 1600s had superimposed on it the speech brought in by the English and Scottish settlers. The French Huguenots also contributed to our vocabulary.
He gave many amusing examples of words which are in common use here, which would be incomprehensible to other English speaking countries. Mr. Blair read several delightful poems incorporating Ulster expressions with which we are familiar and these were greatly appreciated by his listeners.
Thanking the Speaker who is always welcome in Bellaghy, the Chairperson, Mrs Mary Breslin, reminded members of the Society's book in its new format with two added chapters whose sales are going well and which would make a good present for natives who have left the area and retain an interest in Bellaghy. These can be obtained at The Bawn, Vivo and Costcutters supermarkets in Bellaghy, The Bridewell, O'Brien's and Andrew's in Magherafelt and at the Monastery in Portglenone.
The Speaker in January will be Mrs Pearl Hutchinson from Kilrea Historical Society, whose topic will be "A Walk Around Kilrea" an historic Plantation town also well known to the local farming community as a Market town.

January 2006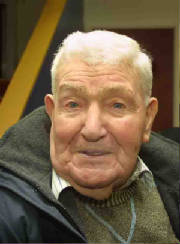 Barney Devlin of the Forge Hillhead who was the guest speaker at the January meeting of Bellaghy Historical Society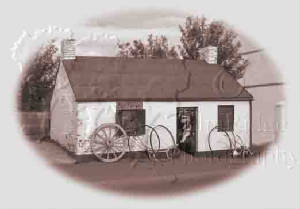 (left) The Forge at the Hillhead outside Castledawson.
For their January meeting the members of Bellaghy Historical Society enjoyed a very entertaining evening of memories shared with Mr. Barney Devlin of The Hillhead, Castledawson.

The intended speaker for the evening had been unable to come because of family illness and Mr Devlin, who has been scheduled to speak in February, very kindly agreed to put forward his visit to fill the gap.

The meeting opened with the showing of a video of Lough Beg which was featured some years ago in the "Lesser Spotted Ulster" series. The video was kindly lent by Mrs. Margaret McErlean and contained footage of the traditional activities of some members and their relatives on the shores of the lough.

The viewing was greatly enhanced by the magnificent 42 inch plasma television which was supplied by Kearneys, Castle Street, Bellaghy. After this was shown Mr. Devlin took over and regaled members with memories of characters who had lived in the area and told of life as it was in the "Hungry Thirties" when his father, a blacksmith, was often paid for shoeing horses with produce from the farm when the farmers simply had not enough money to offer cash. His audience participated in the conversation and greatly enjoyed his humorous recollections of past days.

Mrs Mary Breslin, Chairperson, thanked Mr. Devlin for standing in at short notice and for the pleasure his anecdotes had given those present. She reminded members that Mrs Pearl Hutchinson of Kilrea Historical Society who had unfortunately been prevented from fulfilling her engagement to speak in January would do so at the February meeting on the subject of "A walk around the Historic town of Kilrea".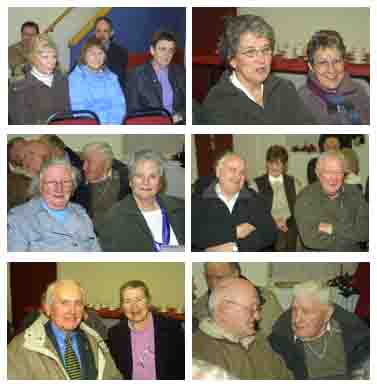 February 2006
(Sorry no photographs this month)

For the February meeting Bellaghy Historical Society had as speaker Mrs. Pearl Hutchinson, Chairperson of Kilrea Historical Society, who took members on "A Walk around Kilrea" - a fascinating computer projector presentation of old photographs of this historic plantation town.

With each one Mrs. Hutchinson added explanations, anecdotes and amusing asides about the subject of the photograph, all related with a deep and affectionate knowledge of the town and with great enthusiasm for her subject.

She told of the town's plantation in the seventeenth century by the Mercers' Company who built the Castle - now in ruins - and St. Patrick's Church although there had been an ancient church whose ruins are still to be seen adjacent to it and which is said to have been built by St. Patrick.

The photographs ranged from images of Fair days, a Hiring Fair, a family setting off on a side car for emigration to America, to photographs of old shops with their wares displayed outside on the pavement, white aproned proprietors standing proudly by, to historic houses,the old village pump and the War Memorial which was constructed on top of it.

Mrs Hutchinson concluded this very evocative presentation of Kilrea as it was with a charming series of recent photographs taken in all seasons of the town and its surroundings, set to delightful music.

The Chairperson, Mrs Mary Breslin, thanked Mrs Hutchinson for a enthralling evening obviously greatly enjoyed by all present. She also reminded members of next month's meeting when Mr.Graham Gault will speak on "Wiring the Atlantic" - the enterprising early days of laying cables on the ocean bed when communication as we know it now was unheard of.

March 2006
Mr.Graham Gault from Ballycastle was the speaker at the March meeting of the Bellaghy Historical Society when he spoke on "Wiring the Atlantic".The speaker, who is Chairperson of the Glens Historical Socety was, a submarine Cable engineer for 20 years and consequently had a great knowledge of his subject.
He pointed out that the development of submarine cables in Victorian times had led to a world wide network of hundreds of undersea lines which enable us now to communicate by international telephone and internet. In the early days communication by speech over long lines was impossible and messages were sent by lighting beacons and by using smoke signals.
By 1840 various land based telegraph systems had been set up, some of them using copper wires as the conductor and there were other systems using semaphore towers with large arms which moved to denote certain letters of the alphabet. In America Samuel Morse, inventor of the Morse Code had sent the first public message from Washington to Baltimore in 1845.
About the same time Charles Brett and his brother Jacob obtained permission from the French Government to lay a cable across the Channel, a project requiring £2,000 which it took five years to raise from a sceptical public. The main problem in these early days was in insulating the wire but a breakthrough came in 1843 when Dr. William Montgomery discovered gutta percha from a tree in Malaya. This was collected in the same way as rubber and was used as a sort of plastic. In 1850 the Bretts laid their first cable to France, signals were exchanged for a few hours when the line went dead.
In 1851 the Bretts laid a much stronger cable to France which lasted for 80 years. This started men thinking about laying a transatlantic link. The first attempt was made in 1857 promoted by an American called Cyrus Field who formed a company with John Brett, Charles Bright, Edward Whitehouse and Willliam Thompson, later Lord Kelvin.The chosen terminals were Valencia in Co.Kerry and Trinity Bay, Newfoundland.
Cable laying began on 6th August, 1857 and after many frustrating attempts when the cable broke and the Directors were becoming increasingly disillusioned and financial backing was hard to generate, success was achieved on 5th August 1858 when the two ships involved, the Agamemnon and the Niagra arrived at Valentia and Trinity Bay respectively thus at last linking Europe and America.
Many expensive failures occurred in the ensuing years until using I.K. Brunel's "Great Eastern", the largest ship afloat at the time and a re-designed cable which could be spliced if broken, communication with two Atlantic cables now laid was successfully accomplished on 27th July,1866.

April 2006
Mr Clive Scoular from Downpatrick, author and historian, was the guest speaker at the April meeting of the Bellaghy Historical Society. His topic was "Two Important Women in Irish History" and the women chosen were Countess Constance Markievicz and Saidie Patterson, two people from completely contrasting backgrounds the former having been born into the Anglo Irish titled family of Sir Henry and Lady Georgina Gore-Booth at Lissadell, Co.Sligo and the latter into a poor working class family in the Woodvale Road, Belfast.
Constance Markievicz trained as an artist in London and Paris, married Count Casimir Markievicz and became involved in nationalist politics from 1908 onwards, founding the Nationalist Boy Scouts and joining the Irish Volunteers and the Irish Citizen Army. She took part in the Easter Rising of 1916 and although sentenced to death she was reprieved simply because of her sex and spent three of the last ten years of her life in prison.
She became the first ever woman MP to Westminster although she did not take her seat and was the first female Cabinet Minister (of Labour) in de Valera's first Dail. She spent most of her last years helping the poor people in the slums of Dublin and in 1927, aged 59 she died surrounded by her family from whom she had been estranged for many years. She had one daughter, Maeve Markievicz of whom Clive Scoular has written a short biography.
By contrast, Saidie Patterson grew up in impoverished circumstances and her life was made more difficult by the early death of her mother when she had to look after her younger siblings. She worked in Ewart's Textile Industry and early on started to fight for Womens' rights to try to improve their pay and conditions.
As a shop steward she went fearlessly to the top men in Government amd Industry and in 1940 brought out the Ewart's women workers on strike and won most of their demands. During the Troubles she was the backbone of the "Women Together" organisation and later on a leading light in the Peace Women".
Her work was recognised by the Open University which conferred an honorary degree on her and she won the World Methodist Peace Prize. She remained a staunch Methodist and died at the age of 79 in 1985 having been named one of the world's top 50 women in 1975.

May 2006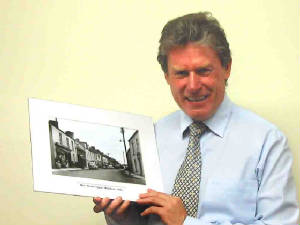 David Lennox
The final meeting of the Bellaghy Historical Society for the 2005 - 3006 season took the form of an Annual General Meeting followed by a computer presentation of "The Picture Postcard" given by Mr David Lennox from Lisburn.
The speaker told of his fascination with old Postcards and how he had begun to collect them over the last twelve to thirteen years ending up with a collection of two and a half thousand. From these he selected a great variety of postcards of villages and towns in South Derry which gave a most interesting insight into fashions and customs of the last century.
Many of his postcards were over 100 years old and as he showed them he pointed out the historical information that could be learnt from them regarding clothing, business, country customs and buildings.
As he was brought up in Cookstown, Mr. Lennox had many cards depicting its famously long street and market stalls and from there took his audience on a trip to Magherafelt, Maghera, Kilkrea, Castledawson, Bellaghy and other surrounding areas.
Mrs Mary Breslin, Chairperson, thanked Mr. Lennox for showing such a wonderful selection of cards which had proved to be of the greatest interest to his large audience. She also thanked him for conducting the Election of Office Bearers which resulted in the following appointments. Chairperson: Mrs Mary Breslin. Vice-Chairperson: Mr. Seamus McErlean. Hon. Secretary: Mrs Patricia Lowry. Hon. Treasurer: Mrs Pat Henry. Committee members: Mrs Margaret Evans, Mrs Ena Hammond, Mr. Dermot Keenan, Mr. Ossie Leslie and Mr. Sam Overend.
In closing Mrs Breslin reminded members of the Annual Outing which was this year to take the form of a visit to the historic town of Armagh on Thursday 15th June asking them to telephone the Secretary at 7938 6413 if they had any queries or wished to bring a friend.