November 2004
(Above) Guest speaker at the November meeting, Mr Richard Mulholland of Ballyscullion Park displays old images of Ballyscullion House.
The November meeting of the Bellaghy Historical Society was addressed by Mr Richard Mulholland of Ballyscullion Park who gave a very interesting history of his family home.
The original house was planned in 1787 by Frederick, Bishop of Derry and Earl of Bristol, who had already built a mansion at Downhill near Castlerock. The original plans for Ballyscullion show a very large crescent shaped dwelling with three hundred and sixty five windows. The Bishop,who was quite a worldly character, spent a great deal of time abroad, mostly in Italy, and never lived in the house so that when he died and left it to a Hervey nephew, the Window Tax which had been introduced made it financially impossible to maintain. It was then demolished and the portico is now the front of St. George's Church in Belfast.
The present house was built on a site slightly nearer Lough Beg of which it commands a magnificent view. It passed from the Herveys to the Bruce family who were related to them and it was from the Bruces that Mr Mulholland's grandfather, Sir Harry Mulholland, acquired it in 1938.
The roof and entire building were in a poor state and the gardens had been allowed to grow wild, necessitating extensive repairs and re-planting. The speaker had brought enlarged photographs of these repairs and also of the Bishop's original plans for the first house which added greatly to the understanding of his talk. He related that the house had been taken over during the 1939-45 war by the American Army who had left a legacy of Nissan Huts in the grounds and a large building intended as a factory for making parachutes.
Mr Mulholland also gave a short history of his own family and its involvement with the linen industry which culminated in the very extensive factory buildings at York Street in Belfast.
Thanking the speaker for his talk which was clearly greatly enjoyed by his audience, the Chair-person, Mrs Mary Breslin, reminded members of next month's meeting on December 14th, when Mr Alex Blair, well known Historian and Broadscaster, would be returning to speak on The Moravian Settlements at Gracehill and at Gracefield, Ballymaguigan.

December 2004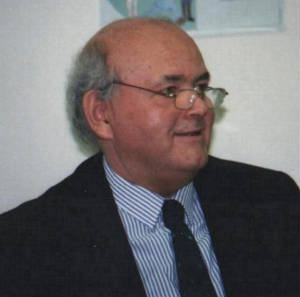 (Left) Guest speaker at the December meeting, Mr Alex Blair, well known Historian and Broadcaster, Mr Blair's talk was on The Moravian Settlements at Gracehill and Gracefield, Ballymaguigan
The December meeting of the Bellaghy Historical Society was addressed by Mr Alex Blair, well known Historian and Broadcaster, on the subject of The Moravian Settlements at Gracehill and Gracefield, Ballymaguigan.
He explained that the movement had originated in Prague in the fourteenth century when a man called Hus, a disciple of John Wycliffe, who had already rebelled against the excesses of the Church and the Holy Roman Empire in general, decided to continue in Wycliffe's footsteps and form a society based entirely on the Bible teachings. This was some 60 years in advance of the Reformation and the Hussites, as they were called, became a strong voice in Prague where they built the Bethlehem Chapel with a capacity for 3,000 people. Hus did not live to see this as he was martyred in 1415.
The man responsible for starting the movement in Ireland was John Cennick who came in June 1746 to Dublin and preached widely in that area. In August of that same year a man called Joseph Dean invited him to Ballymena where his teachings flourished and after some time Societies were formed in Ballymena between 1765 to 1790.
The Society in Gracehill was so called because of it's location on a hill and Cennick's followers believed they had been led there by the Grace of God. The lovely village of Gracehill was planned and built by them as it looks today.
They also built three Choir (meaning Members') Houses, a Sisters' Choir House, a Brothers' Choir House and a Widows' Choir House. They did not refer to themselves as a Church but as a Society and all people were equal. Every man was addressed as Brother and every woman as Sister, irrespective of title or rank. Women entered and left the building by one door, men by the other and they did not sit together. Even in death they were buried apart. This last custom is still observed today although that of entering and leaving the building no longer applies.
The Settlement in Ballymaguigan was the result of a visit paid by a Mr and Mrs McKimm to Dublin to hear John Cennick preach. They invited him to come North and he preached in many places. Mr Watterson of Lisnamorrow asked him to come to Lisnamorrow to establish a Society there. This he did and when the lease ran out after eighteen years they moved to Ballymaguigan where they were sold one hundred acres by Mr. Dawson of Castledawson and a church was built.
This was consecrated by John Cennick in September 1769 and named Gracefield as they felt they had acquired the land by the Grace of God. The burying ground was called God's Acre. Brethren farmed the land but took no wages and after the Great War lack of work and emigration took their toll. The Methodist minister in Magherafelt and rector in Woodschapel took services for some time but eventually the land was sold and the church was bought by the Parish of Woodschapel.
Mr. Blair's lecture proved to be of great interest to his large audience and Mr Seamus McErlean, acting Chairperson for the evening, in thanking Mr. Blair, expressed members' great appreciation for the scholarship of its content. He also reminded members about the January meeting when the Speaker would be Mr Anthony Buckley of the Ulster Folk and Transport Museum whose subject would be "Traditional Medicines and Cures."

January 2005
The January meeting was cancelled due to poor weather conditions.
The meeting, which was to be a talk on 'Traditional Medicines and cures".by Mr Anthony Buckley, of the Ulster folk and Transport Museum has be rescheduled for the May meeting.

February 2005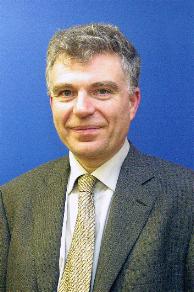 Mr Robert Heslip from the Ulster Museum, Belfast was the guest speaker at the February meeting.
The February meeting of the Bellaghy Historical Society was addressed by Mr Robert Heslip from the Ulster Museum, Belfast, where he has been Curator for twenty five years. He is an acknowledged expert on coinage and entitled his talk "The History of Money in Ireland throughout the Ages".
Mr. Heslip said that hoards of coins had been unearthed near Coleraine and near The Giant's Causeway most of which had been identified as Viking or Roman coins. In later centuries different kings had their own marks impressed on the coins and it was King John who had brought in the groat which was worth 4d or pennies. The "d" was the symbol adopted for penny (before decimal coinage) and derived from the Latin word "denarius" for the Roman silver coin worth about 8d later translated in the New Testament as "penny".
In Ireland coins were made in mints at Kilkenny, Dublin, Cork and Limerick and at Downpatrick and Carrickfergus in the North. Mr. Heslip illustrated his talk with many excellent slides pointing out the meaning and significance of the marks impressed on the coins.
Mrs Mary Breslin, Chairperson, thanked Mr Heslip for his most interesting lecture and reminded members of next month's meeting when Mr. Kevin Johnston of Moneymore will speak on "The Secret History of Moneymore".

Mrs Patricia Lowry

Mrs Margaret Evans

Mrs Ena Hammond

Mr Dermot Keenan

Mr Ossie Leslie

Mr Sam Overend

Mr Seamus McErlean